The County Federal Credit Union was originally organized as Loring Federal Credit Union in 1956 to serve military and civilians that worked at Loring Air Force Base.
Joseph Bouchard Jr. was hired as the credit union's first full-time manager in 1958. In 1964, Loring Federal Credit Union reached 2 million in assets, making it the largest credit union in the state. Holy Rosary Credit Union merged with Loring Federal Credit Union in 1969, making the first Department of Defense credit union to expand into the local community. The following decade brought six other mergers with Loring Federal Credit Union: ACAP Federal Credit Union, Maine Sugar Industries Federal Credit Union, Limestone-Caswell Federal Credit Union, Presque Isle Federal Credit Union, Pamsong Federal Credit Union, and MPG Federal Credit Union.
At the Front of Technology
In 1975, The County Federal Credit Union was one of the first credit unions to go online with The Maine Credit Union League's data center. The County Federal Credit Union was also the first credit union to offer share draft accounts. The first share draft to clear the system was written by Patrick St. Peter.
A New Name
A name change to The County Federal Credit Union would take place in 1983 to better represent the communities the credit union was serving. In 1988, Joseph Bouchard Jr. retired and was replaced by Patrick St. Peter. In 1990, it was announced that Loring Air Force Base would be closed in 1994. Shortly after the announcement, the credit union moved its main office from Sawyer Road to Bennett Drive in Caribou. In 1993, a new branch office was opened in Fort Fairfield.  In 2001, after 37 years of service, Patrick St. Peter retired.
On October 1, 2010, The County Federal Credit Union completed its most recent merger by joining with Houlton Federal Credit Union.  This merger expanded the existing field of membership to include all communities in Aroostook County south of Presque Isle. A new building at 247 North Street for our Houlton office opened on January 22, 2013. Later that year, iTalk was introduced, an new and improved telephone banking service and soon after County MoGO, The credit union's mobile banking app was made available.
After the retirement of Kenneth Hensler, Ryan Ellsworth was named President and CEO of The County Federal Credit Union in March of 2014. With a vision of growth, several developments were put into motion.
In December 2014, Mobile Check Deposit was introduced.
In the summer of 2015, because of continued growth, several new positions were being developed and planned. The positions were AVP of Marketing, Chief Financial Officer and Retail Services Manager. Over the course of the next several months, all of these positions were filled as well as new office space to house the administrative team. In December of 2015 the Operations Center, a 7500 square foot building with 16 offices was moved into at 110 Carmichael Street in Presque Isle.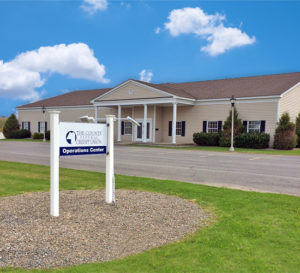 With ever-evolving banking developments, new debit cards with EMV technology, Apple Pay, Android Pay, Samsung Pay and upgraded and updated online and mobile banking were introduced. In late 2017 a new checking product, the first in several years, was introduced to the public. The YES Account offers members all of the latest in technology with mobile banking and online banking. One unique feature is the Round-It-Up capability to round purchases to the nearest dollar and transfer the difference into the member's savings account, allowing them to save money while they spend and highlighting what credit unions were originally founded on, thrift.
At present, our membership has increased to over 19,200 with assets totaling over $288,000,000 ranking us as the 11th largest credit union in Maine (as of July 2020).
The County Federal Credit Union – a solid past leading to a strong future.