The County Federal Credit Union's Campaign for Ending Hunger is a true example of the credit union philosophy of "People Helping People".
Thanks to the tremendous spirit of the Maine Credit Unions, their staff, volunteers and members, the collective efforts of Maine Credit Unions raised another record-setting amount of $740,027 in 2017!  Since 1990, Maine credit unions have raised over $8 million for the Maine Credit Union's Campaign to End Hunger.  All of this money has gone directly to Maine hunger organizations.
Maine Credit Unions' Campaign for Ending Hunger Facts the Campaign's  28th year
History on the Maine CUs' Campaign for Ending Hunger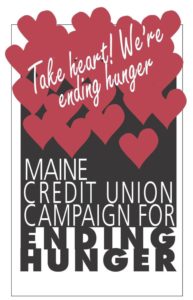 100% of all funds raised stay in Maine and go directly to help end hunger. The Social Responsibility Committee developed the Maine CUs' Campaign for Ending Hunger as a way to create a statewide social responsibility program that Maine's Credit Unions could "call their own," and take a leadership role in supporting a significant issue in Maine
Credit unions began raising money for Ending Hunger in 1990. Since its creation, the Maine CUs have raised a total of $7.2 million to help end hunger
Participation in the Campaign and funds raised have increased over the twenty-six years of the Maine Credit Unions' Campaign for Ending Hunger
For the 2015 Campaign, 58 credit unions and 8 chapters raised $674,193.48, a new record
The largest, philanthropic fundraising effort for ending hunger in Maine by a non-hunger organization
How the Ending Hunger Campaign works
100% of the money raised goes to hunger organizations (food pantries, soup kitchens, etc.)
In 2016, every credit union that participated in the Campaign received at least 100% of the funds it raised back to distribute to the hunger organization(s) of their choice
The remaining funds are contributed to hunger initiatives that have a statewide impact including a $100,000, 3-year contribution to expanding the school backpack and pantry programs with Good Shepherd Food Bank, supporting the Food Mobile, which has delivered more than 4.5 million lbs. of food since it began in 2005, and has made visits to every Maine county annually; the Emergency Food Relief Funds of the American Red Cross received an annual contribution in Memory of 9/11; the Maine Credit Unions' Ending Hunger Walking Tour; major support of the four primary food drives across Maine during the month of November; and many others
Statistics on Hunger in Maine
35% of all Maine children live in low-income families
More than 40% of Maine kids under the age of 12 show some evidence of hunger
68,950 Maine children are food insecure
One in four Maine children live below the poverty level
Maine ranks 13thin the nation and 1stin New England in terms of food insecurity
15% of Maine households, representing 200,000+ people, experience food insecurity
Hunger and the risk of hunger are widespread among Maine's low-income families with children
The likelihood of experiencing hunger or the risk of hunger is directly related to income
Children living in households which experienced hunger or the risk of hunger are more likely to experience health or school-related problems.
Several groups are found to be at greater risk of hunger in Maine; children, adults in low-income families, disabled persons, persons with special needs, the elderly, those living in rural regions and the inner cities of Maine's largest urban places
Several factors contribute to hunger in Maine; including income growth that is outpaced by cost of living; high level of underemployment; widening gap between rich and poor; illiteracy; and lack of consumer information on nutrition
The County Federal Credit Union continues to raise funds locally throughout the year for this great cause by selling various items such as raffles and dress down days. 100% of those funds are donated back to local hunger organizations.
At our 62nd Annual Meeting in May 2018, seven local food pantries were presented with an equal share of the proceeds by The County Federal Credit Union.